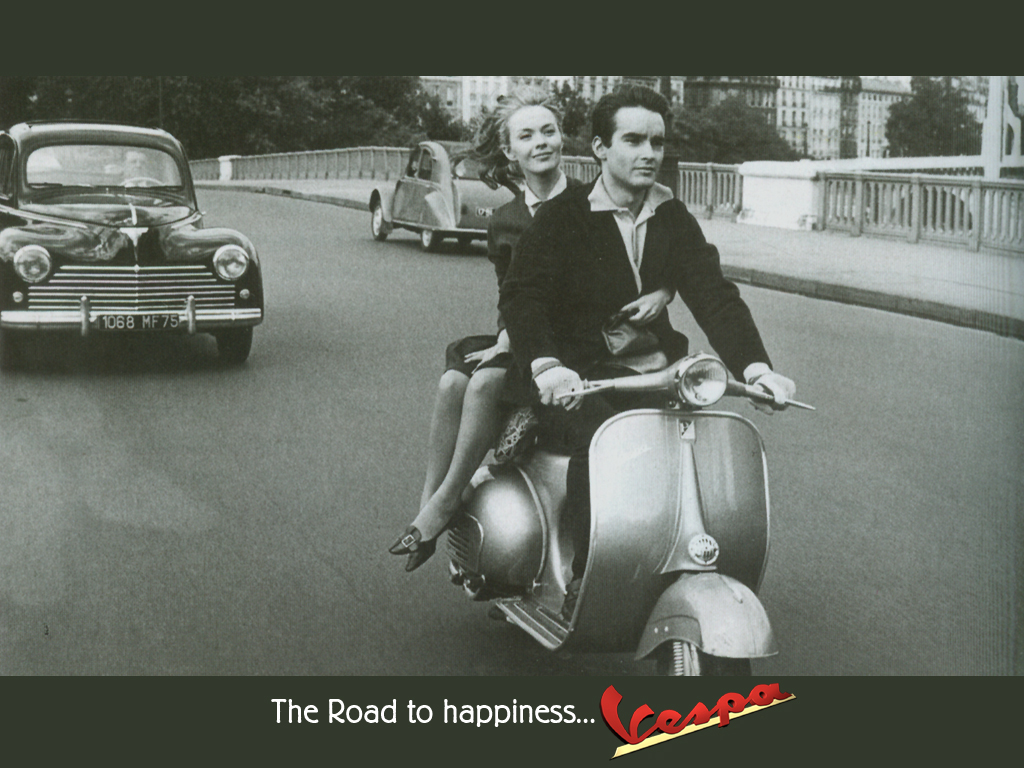 I have an ongoing love affair with scooters. Unlike most people, it didn't start with endless reruns of
Roman Holiday
, but on a rental on
Magnetic Island
where I crashed a sum total of three times due to some dodgy brakes, but couldn't wipe the stupid grin off my face the whole time. After that I was totally hooked.
I'd actually always fancied myself as a bit of a hot chick on a motor bike, channelling my inner
Pinky Tuscadero
or just like Michelle Pfeiffer in
Grease 2
. But being a person of rather small and light stature, I didn't really want to be commuting about town on a pee-wee 50, so a scooter it was. A sleek and ultra cool
Vespa
was way out of my price range, so I opted for a
Piaggio
. More plastic, less storage, less prestige, but hey, it still sounds italian right?
So my misadventures see me scootering around town, getting burnt to a crisp in the tropical heat. Third degree burns on my butt when trying to ride in a skirt and then there was the time I got stung on the cheek by a very angry scooter hating bee! I loved every minute of it right up until when riding home from work in a storm a gust of wind caught me and blew me right into the side of a removal truck whilst I was navigating a round-a-bout.
The stories I heard back later were much elaborated and actually sounded much cooler (one I may or may not have started myself had me sliding mission impossible style right under the truck), but in all reality I just put my arm out, bounced off and wobbled the rest of the way home very shaken and doing about 40km under the speed limit practically on the footpath. After that I road my beloved scooter less and less and eventually we parted ways when I sold it too another scooter mad chicky with a pink leather jacket. I'm such a scardy cat :(
However I will always look back upon my scootering days with a certain fondness one has for miss spent youth, and when I'm a reckless old lady with little to loose I'll be back out on the highway on my scooter. I'm just hoping it won't be the type you can hire at the chemist.
Here are a few ways I can still get my scooter fix until I can live the dream once more...
Bike, Scooter, and Chopper Projects for the Evil Genius (Evil Genius)
This one will have you ditching the kids and planning a real Roman Holiday! It's a fun read as well as being a bit of a travel guide.
Vroom with a View: In Search of Italy's Dolce Vita on a '61 Vespa
How cute is this coin purse? And in pink too! Available from
Retrospettive
on Etsy
This one makes me wish I'd pay more attention every time my Mum tries to teach me how to knit! Available from
Leah Sutton
's shop on Etsy